How to work on your cardio at home?
Caution : You must consult your doctor for your health. This page presents only a personal and alternative point of view which should not be considered as an attempt to prescribe medicine.
---
🔥
Intermittent Breathing
: Practice this technique 3 x 20 minutes a day to quickly reduce your stress and calm your mind (guaranteed result).
Working out your cardio helps you maintain good shape by maintaining your physique.
It is absolutely not essential to go to the gym or hire a home trainer in order to have a good workout.
It is possible to work out your cardio at home for more convenience.
Here are some exercises to do at home to strengthen your cardio-respiratory and cardiovascular system.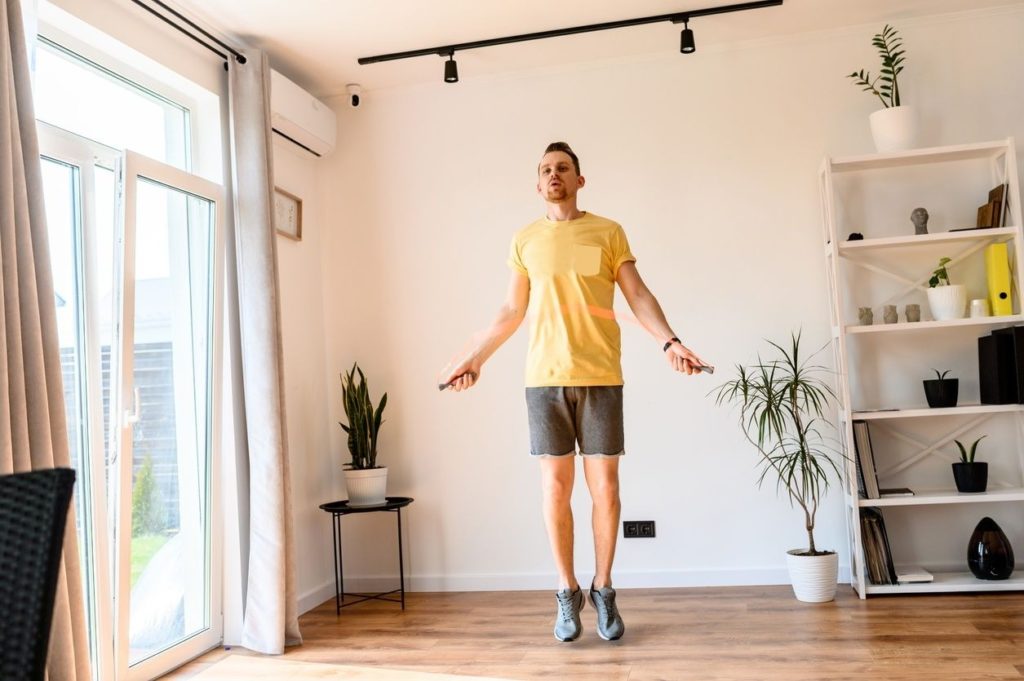 Opt for pumps
Of all the exercises designed to exercise cardio, push-ups are without doubt one of the most popular.
Very often used to train soldiers, they can be supported on the tips of the feet or on the knees.
However, certain precautions should be taken in order to avoid back pain.
Practice the plank
Apart from push-ups, the plank is another exercise that should be part of your cardio routine because of its effectiveness.
Also, keep your back healthy by sheathing it.
This exercise is part of a cardio program.
Do squats
In addition to helping you work out your cardio, this exercise is perfect for shaping your glutes, hips, and thighs.
The practice of the squat also helps to consolidate the tendons, ligaments and bones of the lower body.
It strongly contributes to the development of all the musculature of the body and that of the legs in particular.
To succeed in this practice, it is necessary to proceed in stages:
To start, stand with your legs shoulder-width apart.
Then slowly bend your thighs as if to squat.While squatting, tilt your pelvis back.
When your thighs are aligned parallel to the floor, lock in and hold the position for a few seconds before rising just as slowly.
There are variations in which you leap.
Pay attention to the position of your back and the landing after the jump.
Take an interest in skipping rope
If in addition to cardio training you want to lose calories without having to go to the gym, the jump rope is recommended.
Simple to practice, this exercise helps you burn approximately 220 calories in just 15 minutes.
You don't have to be a seasoned athlete to use it.
Plus, the jump rope is inexpensive and can be stored or carried anywhere.
However, you will need to be patient, a good pair of shoes, and practice as often as possible.
Practice high knees or raised knees
This cardio exercise puts more strain on your lungs and muscles than the famous heel-butt, popular with home exercise enthusiasts.
It is indeed not easy to raise the knees in rhythm.
Can be practiced as a warm-up, the high knees prepares the muscles and exalts the heart.
Jumping jack
This exercise consists of jumping in different positions for the arms and legs.
Bring your feet together in the starting position then jump with your legs apart and arms raised.
The legs and arms are brought back to the starting position on the next jump.
Repeat these movements as often as you want.
In conclusion, cardiovascular and cardio-pulmonary health can be maintained at home.
The aforementioned exercises allow you to work your cardio without resorting to sports facilities.
There are others that are done with devices like the treadmill, bicycle or rower.
Also, don't forget to hydrate well and breathe well for optimal results.
---
❤ The ultimate guide to breathing
Intermittent Breathing
: Discover the method to quickly relieve your anxiety and chronic fatigue (positive effects from the first use).
---
Read also :
Previous article : How to be less breathless while running?
Next article : Shortness of breath in pregnant women during pregnancy?