Chronic hyperventilation syndrome : what are the best solutions ?
Caution : You must consult your doctor for your health. This page presents only a personal and alternative point of view which should not be considered as an attempt to prescribe medicine.
---
🔥
Intermittent Breathing
: Practice this technique 3 x 20 minutes a day to quickly reduce your stress and calm your mind (guaranteed result).
Chronic hyperventilation causes a set of symptoms associated with a state of abnormal muscle and nerve hyper-excitability.
It is manifested by a too rapid respiratory rate and by an increase in the intensity of the respiratory movements.
This syndrome can have several causes, and its complications can be life-threatening.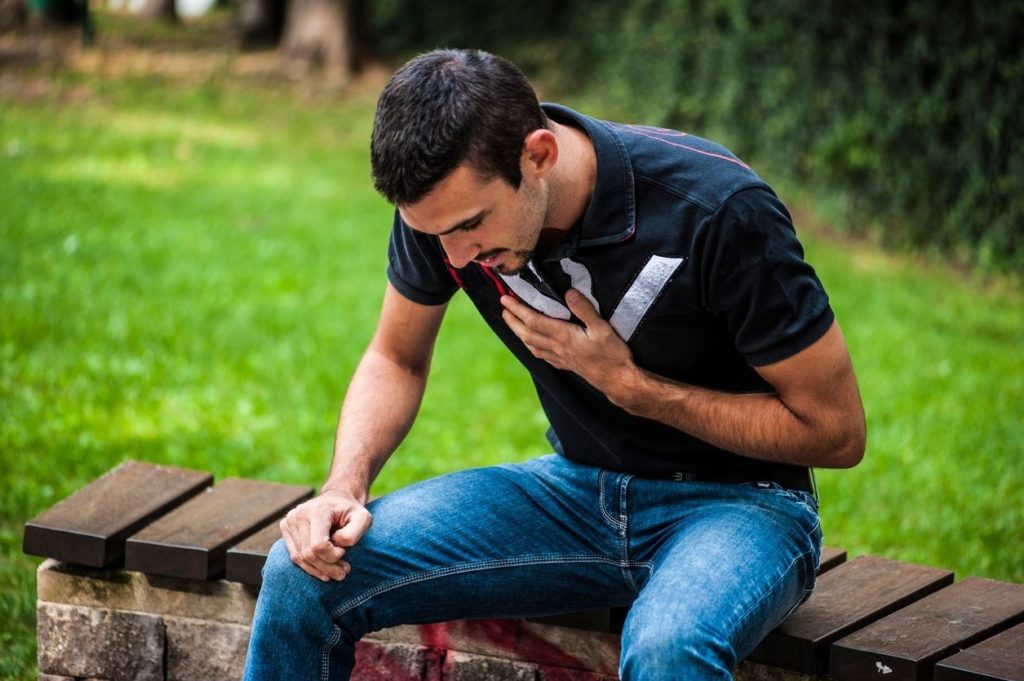 With this in mind, what solutions should be considered? We update you here.
Causes of chronic hyperventilation
Chronic hyperventilation is characterized by a high supply of oxygen to the blood, which means that you exhale too much CO2.
Unlike a hypercapnia (too much CO2 in the blood), hyperventilation causes hypocapnia (not enough CO2 in the blood).
It can have several possible causes and be the physiological response to certain ailments.
Hyperventilation can be caused by severe pain or a sudden psychological shock (fear, anger, anxiety, etc.).
When you are under stress or a period of anxiety characterized by anxiety attacks, you may be prone to hyperventilation syndrome.
Likewise, with a lung condition such as asthma, pneumothorax or pneumonia, you are at risk of causing hyperventilation.
Another source of this syndrome, you have a lack of cellular oxygen which can occur during activities at altitude.
In other words, hypoxia (not enough oxygen in the cells) can cause hyperventilation disorder.
Besides the previous causes, metabolic acidosis is often the most common cause.
These include acute cell poisoning caused by toxic diet, endocrine disrupting chemicals, etc.
In addition, the excessive dose of certain drugs such as aspirins, can give rise to hyperventilation.
Indeed, when you overuse analgesic cures, they can trigger too fast breathing with an increase in the number of respiratory cycles per minute.
Means of prevention of the syndrome
One-off hyperventilation happens to everyone during stress.
The problem becomes serious when the stress persists and hyperventilation becomes chronic.
And the chronic form of this disorder can give severe complications.
The risk factors are considerable.
Women are more often affected than men by this disorder.
Likewise, it is more common between 15 to 65 years of age, which is why this syndrome should be prevented in order to avoid treatment.
It is therefore essential to determine the situations that can trigger chronic hyperventilation attacks.
To do this, you can first review the way you breathe, in order to reduce the appearance of this syndrome.
You can also practice breathing meditation if you are anxious by nature and too often under stress.
As you will have understood, good prevention lies above all in the way you breathe more calmly.
For example, you can breathe through your stomach, which is called diaphragmatic breathing.
Diaphragmatic breathing helps send more air to the lower part of your lungs, which greatly improves gas exchange between your air cells and your blood.
Then, know that wearing looser clothing decreases the risk of chronic hyperventilation.
Indeed, when you wear clothes that are too tight, you can have feelings of suffocation, but above all, it will compress your diaphragm, the muscle of your breathing.
This can make you breathe faster than usual.
In addition, consider limiting or even stopping caffeine if you take it.
Indeed, it is a stimulant of the nervous system which contributes to the release of adrenaline.
This can cause sharp breathing synonymous with hyperventilation syndrome.
Medical treatments for the syndrome
Treatment of chronic hyperventilation syndrome is subject to consultation with the doctor.
There are various medical cures that can cure this syndrome.
You can take anxiolytics, sedatives, or tricyclic antidepressants.
In any case, take these medicines for the short term because they can cause many side effects.
However, the appropriate treatment will be given based on the diagnosis.
Care by physiotherapy session is also recommended.
The physiotherapist can then ask you questions in order to assess your mental and physical state.
Thus, he will be able to establish an effective treatment.
In addition, mechanical assisted ventilation is also a means against chronic hyperventilation, especially in complicated cases.
While mechanical ventilation is not a cure, it can still correct the mechanism of your breathing.
Administration of magnesium has also shown positive effects on hyperventilation syndrome.
The natural solution: breathe less
The hyperventilation syndrome also called spasmophilia is a disorder that can cause serious damage in your daily life.
But if chronic hyperventilation syndrome is synonymous with breathing too much in quantity and too quickly in speed, what would be the most effective and the most natural solution in your opinion?
Obviously, it is a question of regaining control of your breathing to do exactly the opposite, that is to say, to breathe less in quantity and less quickly.
But beware, breathing less requires personal support from a specialized coach.
The risk is to practice extreme hypoventilation, which would cause other disorders such as shortness of breath, hypothyroidism or even hypercapnia.
The secret lies in the golden mean, neither breathing too much nor not enough.
I have developed a method that has already helped thousands of people regain control over their breath by learning to breathe less, but better.
To learn more, discover the technique of intermittent breathing.
---
❤ The ultimate guide to breathing
Intermittent Breathing
: Discover the method to quickly relieve your anxiety and chronic fatigue (positive effects from the first use).
---
Read also :
Previous article : Too much carbon dioxide (CO2) in the blood: what natural treatment?
Next article : Abdominal breathing: how to breathe with the belly?